"We're obsessed with providing a terrific experience. If not, we'll make it right - guaranteed."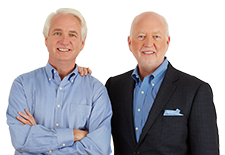 Chris McCann, CEO & Jim McCann, Founder
The doorbell rings. From outside, a friendly voice says, "Delivery from 1-800-Flowers.CA!"
There's a sudden feeling of excitement and anticipation. And then you see it-a beautiful arrangement of fresh, colorful flowers. You're surprised. You're delighted. And most important of all, you're smiling!

Making people smile is no small accomplishment. It's a passion that's been in our family for 40 years. It's what drove Jim McCann to open his first flower shop in 1976, with the belief that each of us has a special power inside to connect with the important people in our lives. What starts as a single thought can end with someone feeling loved, appreciated, remembered—and having a better day because of it. It's not just in our business plan; it's actually how we see the world.
And it's this core belief which has continued to grow with us as a company over the last four decades, forever changing the way people send flowers & gifts. From milestone occasions, like birthdays and anniversaries, to life's just because moments, we've been your trusted source for the finest selection of floral arrangements, blooming plants, one-of-a-kind keepsakes and delicious gourmet food—all designed to help you express yourself perfectly to those who mean the most.